Yesterday I finally got around to picking up the new SensatioNail Invincible Gel Polish from Nailene, at Walmart. It was $49.95, but there is a $5 off coupon available on their
Facebook
. I'd been debating for a few weeks on whether to get it or not, because it was rather pricey, but I finally gave in.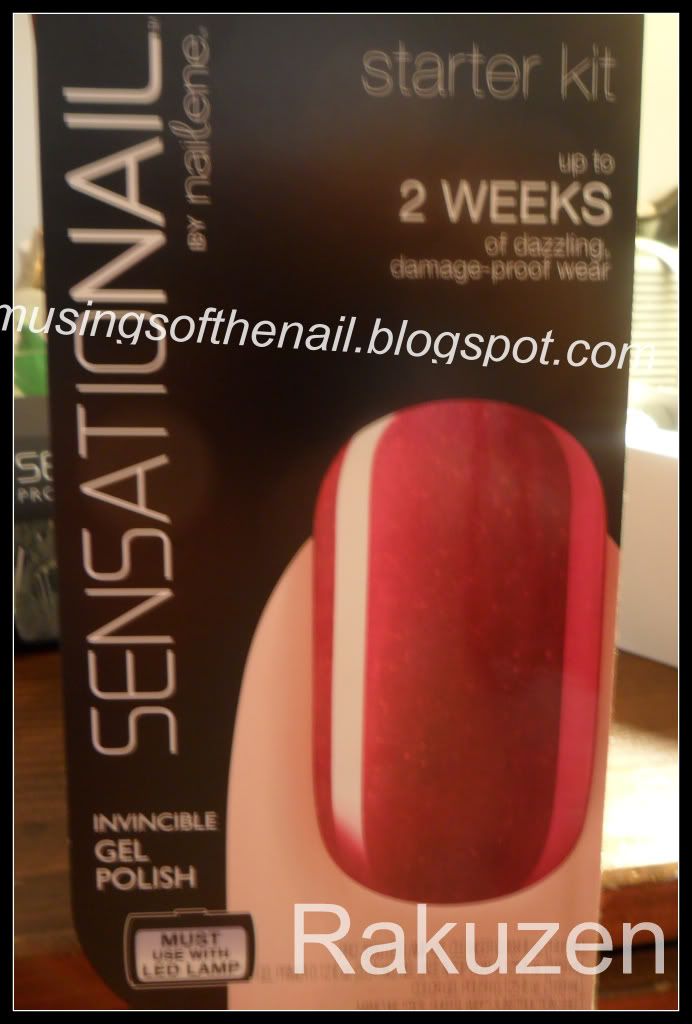 The outside of the box. I picked the Starter Kit in Raspberry Wine, as the other option (as far as Starter Kits go. They have ten other colors) was Scarlet Red.
Flip up the top, and on the inside of the box is this. I love it!! It's, obviously, flimsy cardboard, but it is quite cool. The top holds all the polishes, while the bottom holds the nail packet, and the adapter for the LED lamp.
The LED lamp. A small, "Pro 3060 LED Lamp." It's very nice and doesn't take up a lot of space. It worked pretty well, from what I can tell, although this was my first experience with gel nails at all. It comes with an adapter that plugs into the wall, so no batteries, which is nice because I never have any.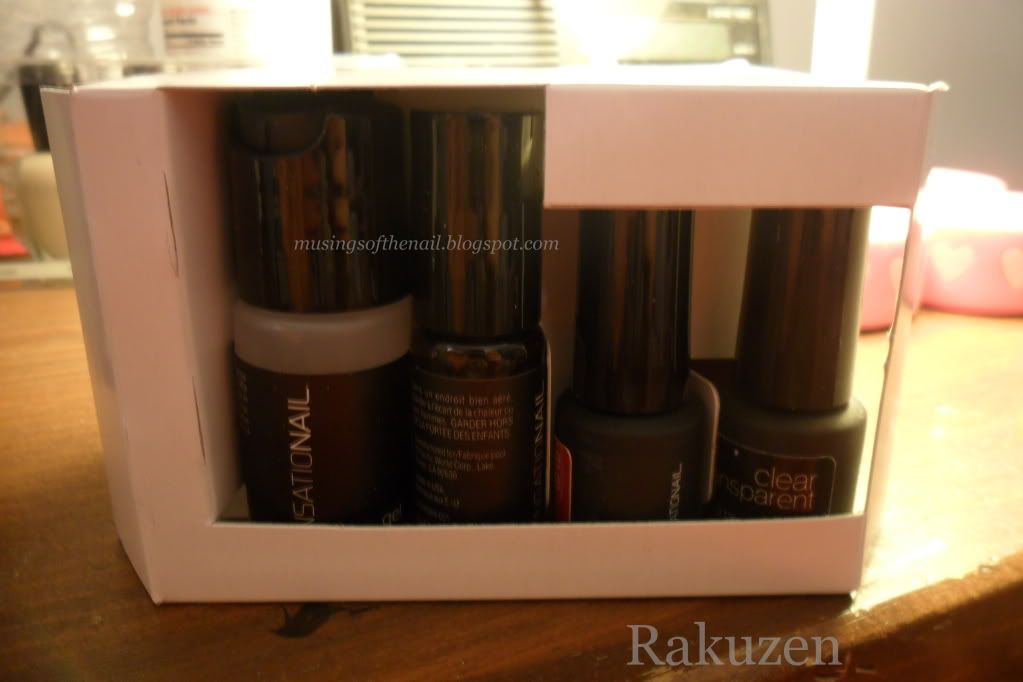 The top level of the cardboard shelf held these. From left, the Gel cleanser, Gel Primer, Raspberry Wine Gel Color, and the Gel Base & Top Coat.
The bottom level held this. A manicure stick to push back your cuticles, a double-sided nail buffer, and a pack of Lint-Free Wipes.
The process is very simple. Buff your nails lightly and push back your cuticles. Pour a little bit of the gel cleanser onto one of the Lint-Free Wipes (one thing--I highly doubt anyone else is stupid enough to do this, but when I first saw it, I had thought that it was one huge wipe and thought "oh, that must be re-usable!" Then I started pouring some of the gel cleanser on it, and realized it was a bunch of thin wipes. So make sure you separate them.) and wipe your nails.
Then coat your nails with gel primer and cure for 30 seconds. This LED lamp is awesome-- I had my iPod on next to me as a timer, but the lamp beeps after 30 seconds. Sadly, it doesn't do it after 60 seconds but it's not too much of a problem. Either just count it out or use a timer. One coat of the base gel, cure for 30 seconds. Next, coat your nails with a thin coat of the color gel, cure for 60 seconds. Do a second coat of color gel, cure for sixty more seconds. Then apply a coat of the top coat, and cure for 30 more seconds.
After that, you can wipe your nails off with the gel cleanser. This doesn't take away the color or anything, but the nails are slightly sticky after the last cure, so if you don't want them to be like that, then wipe them down.
This was the finished product. I only did it on one finger to test, although I will definitely be trying it again after I get my hands on some acetone. That is the one thing the kit doesn't come with, which I wish it did, because I don't live near any beauty supply stores and it is kind of a pain to find. You can use regular nail polish remover, I think, but it will take much longer.
And also, as you can see, I accidentally got some of it on my cuticles, so be careful of that, too. And either I didn't do a good job with the application (likely) or the polish is slightly sheer, because two coats of the polish didn't make it fully opaque. Regardless, it got the job done. After under five minutes for one nail, it was colored and dry to the touch.
I'm hoping to do some experimenting with this-- SensatioNail has posted some nail art ideas on their facebook, like marbling, so I would like to try some nail art. I will also be testing the wear, and I want to try the LED lamp with some other gel nail polishes.
Overall, it's super nice! If the price for the starter kit deters you, don't worry. Considering that, at least at the salon where I got my
Dorothy Who
manicure done, gel nails can cost upwards of $40 for one application, this is really a steal. The additional kits with other colors were only $20 at my Wal-Mart, so I can definitely see myself picking some up or putting them on a wishlist.